IIK Honors Rep. Jim Gooch (D-Providence) with Legislative Leadership Award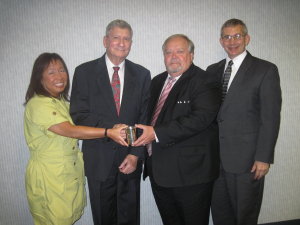 Rep. Gooch receives the Sumner Award, an engraved julep cup. Pictured from left to right are 2010-11 IIK Chair Lorrie Brouse, former IIK Executive Director Carl Sumner, Rep. Jim Gooch, and IIK Executive Director Mark Treesh
The Insurance Institute of Kentucky (IIK) announced that it has honored Rep. Jim Gooch (D-Providence) with the Sumner Legislative Leadership Award at its Spring Meeting on May 10.  The award was presented to Rep. Gooch in recognition of his leadership in the passage of HB 382, a bill he sponsored during the 2011 legislative session.
HB 382 was designed as a consumer protection bill that will help protect people who are involved in auto accidents by prohibiting solicitation of accident victims for 30 days after an auto accident.  The bill was aimed at the practice of using "runners" to contact accident victims to lure them to specific providers who often do not help them.   The accident victim is then left no better but with their Personal Injury Protection (PIP) benefits exhausted.
HB 382 was supported by most attorneys, including the KY Justice Alliance, the vast majority of medical providers, first responders, and auto insurers.
"The IIK is pleased to honor and recognize Rep. Gooch for his leadership on this issue," said Mark Treesh, Executive Director of the Insurance Institute of Kentucky.  "We appreciate how he worked so hard to protect auto insurance policyholders and other accident victims from having their benefits wasted.
The award is named in honor of Carl Sumner, the Executive Director of Insurance Institute of Kentucky since its founding in 1996 until his retirement at the end of 2006.  This is only the second time that IIK has presented the award.
"We present this award to individuals who demonstrate leadership on issues affecting the insurance industry and its customers in Kentucky," Treesh said.  "We do not present it annually, but we will do so when the occasion warrants."  Rep. Steve Riggs (D-Louisville) was the first recipient of the award in 2009.
"I am honored and humbled to be a recipient of the Sumner Award," said Representative Gooch.  "Passing this bill was not easy, but it is a real step forward in protecting consumers from those who would take advantage of them at a difficult time.  That made it worth the effort."