Insurance 101
IIK has produced a program containing information on the basics of insurance as well as a brief look at a some key issues that affect insurance consumers. This program, called Insurance 101, has been distributed on a flash drive which is available free of charge upon request. Just click here to ask for one.

Insurance 101 is also available here on the website. Just click here to take a quick tour.

IIK-EKU CLE/CE Seminar Series
IIK and Eastern Kentucky University's Risk Management and Insurance Program for the past several years have collaborated in offering several CLE/CE seminars for attorneys and claims professionals. We tentatively plan to do so again in the spring of 2016 and we will announce topics and dates when they are finalized later.
Amicus Briefs
From time to time IIK will file an amicus curiae (friend of the court) brief in cases which could have an impact on insurance law in Kentucky. We have developed a set of procedures for the filing of amicus curiae briefs in cases which merit IIK involvement and we have set aside funds for that purpose.
Members or othjer interested parties who would like to propose a case may do so by sending an application to us at amicus@iiky.org.
The application form and the memorandum outlining the policies and procedures for filing amicus briefs as approved by IIK membership are shown below:
IIK News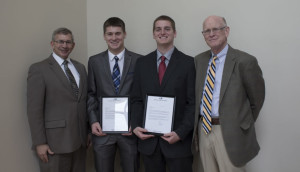 EKU Paper Competition
IIK sponsored a scholarship completion for Eastern Kentucky University students who submitted a paper on a topic related to property and casualty or life insurance. The scholarship award winners were announced at the Annual EKU Insurance Day on April 9, 2015.
First-place winner James Speaks won a $1,000 scholarship and Shaun Cawley won second place and a $500 scholarship. To learn more and to see the two winning papers just click here.
Results from prior competitions can be seen at the links for 2013 and 2014.