2015 EKU PAPER COMPETITION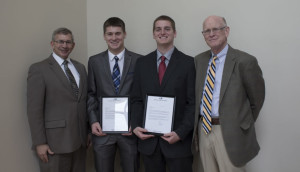 IIK sponsored a scholarship completion for Eastern Kentucky University students who submitted a paper on a topic related to property and casualty or life insurance.  The scholarship award winners were announced at the Annual EKU Insurance Day on April 9, 2015.
In the picture above are IIK Executive Director Mark Treesh, 2nd place winner Shaun Cawley, 1st place winner James Speaks, and Insurance Program Director Burke Christensen.
The two winning papers may be seen here:
Results may also be seen from prior competitions in 2014 and 2013.